Posted by Philip Morris and Son on 1st Aug 2022
Cleaning Your Barbour Jacket
Cleaning Your Barbour Jacket. If you own a Barbour wax or a quilt jacket, at some point you need to think about how to clean it. Most Barbour quilts are machine washable but waxed cotton jackets cannot be washed. Whether you own a Barbour wax jacket or a Barbour quilt jacket, at some point you will need to give some thought on how to clean it. But don't worry, we'll take the hassle out of this so you will know exactly what to do.
Cleaning your quilted jacket
Barbour quilts are very easy to clean, because many of the fabrics and materials used to make them are machine washable, or can be dry cleaned. For your own individual jacket it is always best to check the label as there are a number of different Barbour quilts, and each will have specific details relating to their washing temperatures and aftercare. The care label is often found in the inner security pocket if your jacket has one, or one of the main front pockets. Generally a low washing temperature with a non-biological detergent is always best, and then a very light tumble dry before hanging them in a warm place, such as an airing cupboard, to ensure the jacket is fully dry before you next wear it. Many people may prefer to hang them to dry straight after washing.
Cleaning and reproofing your wax jacket
Barbour waxed cotton cannot be washed in hot water, dry cleaned or machine washed as this will remove the waterproofing wax and oils which cannot be replaced. The only way to clean a wax jacket is to brush off any dirt, and then wipe it down using cold water only.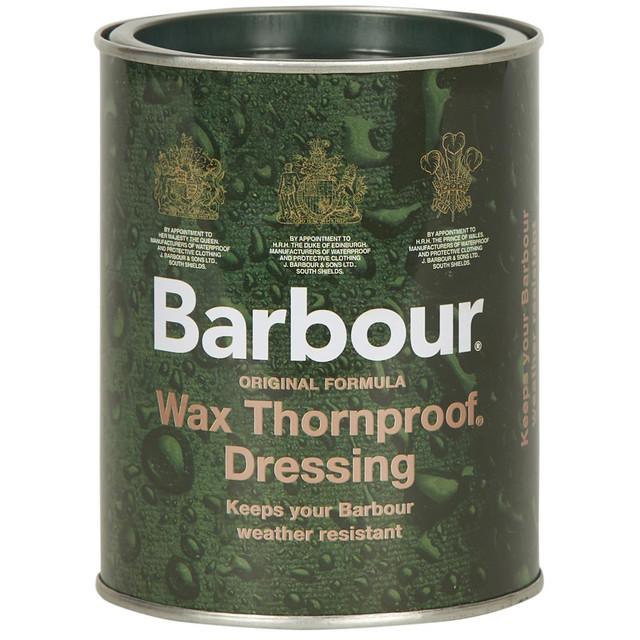 There will come a time when your Barbour wax jacket will need to be reproofed, however this will depend on how much you wear your jacket and the type of usage you get out of it. Barbour suggests you reproof periodically to maintain the effectiveness of the wax. You can have your wax jacket sent back to Barbour to be reproofed, which will cost about £30 for a jacket, and £39 for a jacket and a hood.
If you prefer, you can reproof your wax jacket yourself, using Barbour Wax Thornproof Dressing. Firstly make sure your jacket is at room temperature, rather than just grabbing it out of the car or a draughty room in your house. Next place a tin of the Wax Thornproof Dressing in a pan of hot water with the lid of the tin removed, and once the wax has softened use a soft cloth or sponge to work the wax well into the jacket. Barbour advises that you pay particular attention to the seams, creases and dry patches to ensure these remain fully proofed against the elements.
For an extra smooth finish it is advised that you use a hairdryer to blow over the jacket, to ensure the wax is evenly spread out.
Barbour Repairs
Barbour's repair service will also fix any rips and holes, will replace zips, repair linings, and fix frayed cuffs and edges on your wax jacket. The jacket will be sent to their factory in South Shields, where they will also do alterations. For more information on this, and the pricing, please visit the Barbour page here. Alternatively the jacket can be sent off for an estimate first if you prefer.
One of the best things about a Barbour jacket is that, if you look after it, it will look after you for years to come.